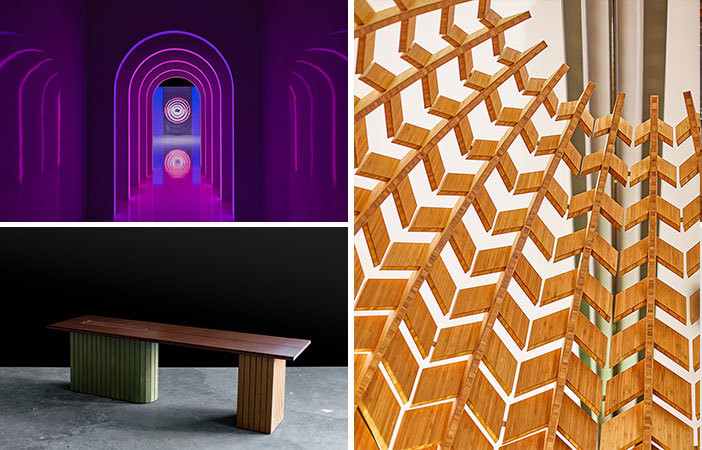 Today is the 50th anniversary of Earth Day – a day to drive transformative change for people and our planet. #EarthDay2020 holds many inspiration stories, looking to educate, raise awareness and create positivity change within their community. As the world is currently in unprecedented times, with challenges facing us all, alot of the events have gone online. Read more here.
 
We thought we'd celebrate Earth Day by sharing some of our green highlights from the past few months. 
Bigging up bamboo! 
We were Highly Commended in the Wood Awards for the use of bamboo, a highly sustainable material, within Mitie Headquarters at The Shard. The biophilic workplace was designed by the brilliant architects at DaeWha Kang Design and comprised over 2,000 bamboo plywood pieces. 
Here's why bamboo is so fantastic – it has an extremely high density comparable to hardwoods, is highly water resistant and lasts a long time. As a raw material it grows extremely rapidly, with a cropping cycle of four to six years, it produces 20 times more material compared to hardwood trees in the land area, it's minimal replanting needs mean that it reduces soil erosion and it produces 35% more oxygen that deciduous trees. What better material to use than this high-performing gem!
'Forests for All Forever'
Assessing the life cycle of everything we produce is extremely important to us. We continually look to innovate our processes to reduce our impact on the environment. At the beginning of this year we became FSC certified, and we're so pumped to take this step towards more sustainable working practices. 
Here's why this certification means so much to us – The Forest Stewardship Council (FSC) is the standard for responsible forest management. It means that any wood we source as a raw material and turn into a product complies with the highest social and environmental standards on the market. 
Sweat. Rep. Repeat.
A speedy project with kicking results! A few months back we worked on the Nike SuperRep launch with the brilliant Storey Studio and Nike's creative team. It was an absolute blast working with such a great crew and to such a tight timeline. We fabricated a whole host of items for the immersive space including furniture, changing rooms, bleachers, the presentation space and a workout podium. As with any pop-up event we're always looking for ways to make sure that the legacy of the project is a good one. So we were very pleased that after the launch the benches, reception desks and stools were repurposed within other Nike stores and the fabrics were donated to a charitable textile company.
Waste not, want not.
Our final green highlight is The Off-Cut Challenge – Aldworth James & Bond's first self initiated exhibition held during the South East Makers Club. The exhibition was a platform for the AJ&B crew to design and make a product using only waste materials from our workshops. Each team produced an item which was judged by its innovative use of material, expert fabrication and legacy of the piece. Boy, did they impress! 
It's our mission to lead good practice within the construction industry, taking positive steps towards greener methods and practices. 
Now more than ever, our purpose is to consciously resolve the challenge of making things responsibly.