The Off-Cut Challenge at South East Makers Club
London Design Festival
featuring SHAPESLewisham
Processes
Joinery
Digital Fabrication
Installation
Finishing & Graphics
What we did
As part of the South East Makers Club and London Design Festival, the Aldworth James & Bond crew were encouraged to explore the use of waste material left over from recent commercial projects. The teams worked in groups in their own time, to design and fabricate objects using only off-cuts found within our workshops in Deptford. Each team interpreted the brief differently, culminating in a variety of works exhibited in Deptford Market Yard, including a toy, furniture, a modular system and a DJ booth – all celebrating digital fabrication and traditional hand skills.
"59% of waste is created by the construction, demolition and excavation industry."
Source: DEFRA UK Statistics on Waste Report, 2018
We're on a mission to reduce and reuse and everything within the exhibition was made from waste. The construction industry is one of the worst offenders of generating waste. We tackle sustainability from every angle. We ensure all materials are sourced from responsible suppliers, efficiently place components onto a sheet to minimise waste and responsibly transport our products for installation. A degree of waste material and off-cuts is unavoidable, so the The Off-Cut Challenge shows how this can be transformed.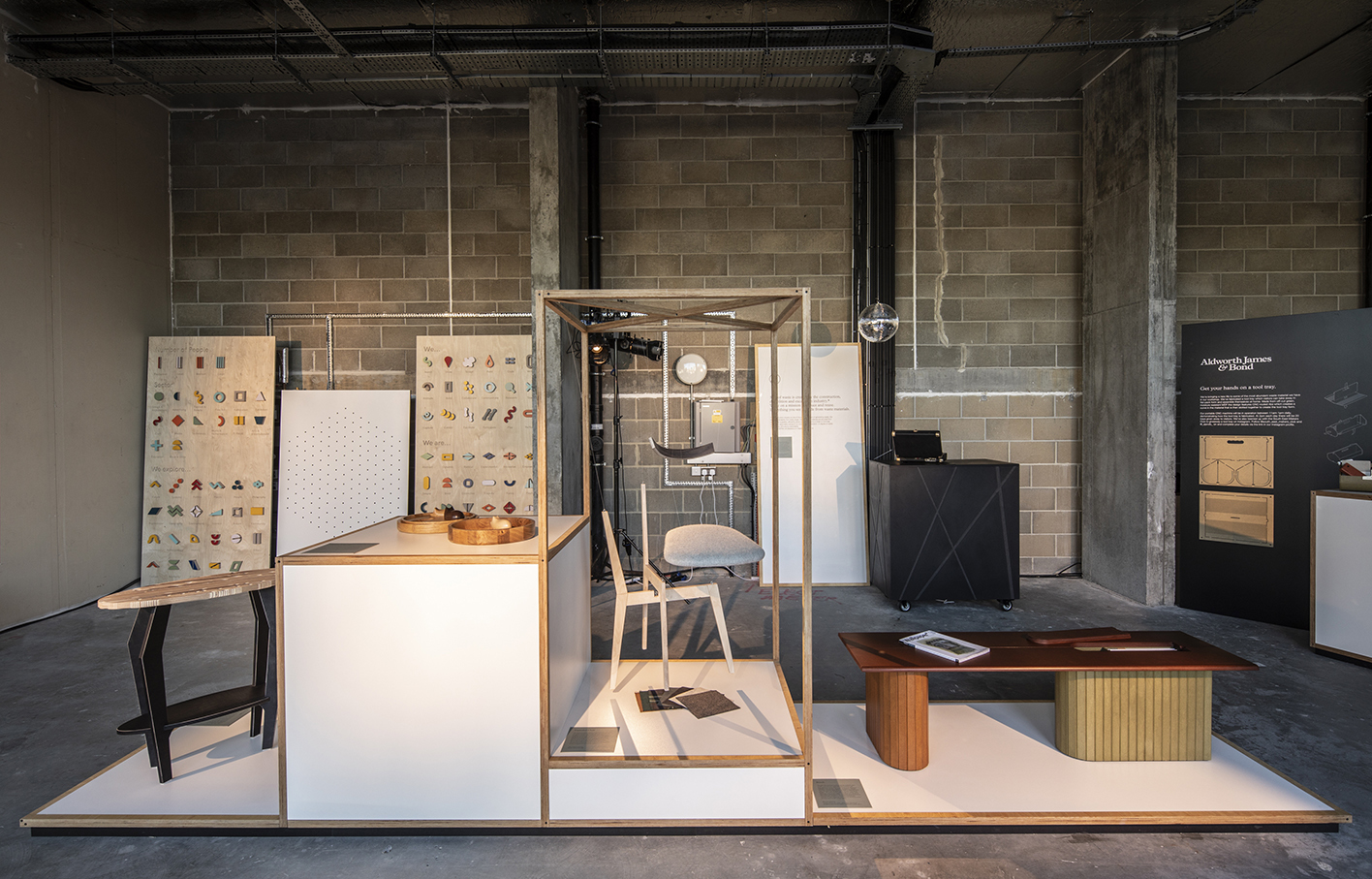 The works were judges by an external panel comprising Director at Studio Tord Boontje, Tord Boontje, Executive Creative Director at Studio Raw, Rebecca Molina, Acting Design Editor at Wallpaper*, Alice Morby, Founder of Hugh Strange Architects, Hugh Strange and Chief Executive at Cockpit Arts, Annie Warburton. Everyone either lives or works in south east London.
It was a hard decision to make, but the winning group were 'Three little piggies went to Deptford Market' – a playful jigsaw toy which encouraged parents to move away from plastic toys and towards pieces which last a lifetime. Read about all of the objects below.
Three little piggies went to Deptford Market
We should be considered consumers, buying less but buying well, and this ethos can be especially applied to children's toys, of which there is a plethora to choose from – especially made from mixed plastics. Three Little Piggies were inspired by conversations about children's toys following a baby boom at Aldworth James & Bond. The animals were milled on a CNC machine and designed to be used. Made from off-cuts of solid maple, oak and walnut, the timber will age well. The storage box is made from an off-cut of oak butchers block and provides a pig enclosure and puzzle for play.
Modular Green Wall
The modular green wall was designed with the intent of promoting nature in industrial workspaces. It provides a functional and decorative solution for growing plants, inspired by the weeds and buddlejas that grow from walls above our workshop. Planter modules can be added, arranged in many ways and reconfigured, creating a unique space-efficient solution. Each module is made from plywood off-cuts and the plant pot and drainage receptacle are made from end-of-life containers used for paints and oils in our finishing department. The modular green now lives at Aldworth James & Bond for herbs and hardy sedum plants.
Bench
One of the most ubiquitous materials in the industry, valued for consistency, strength and price, however great efforts are taken to disguise it from view. The bench was conceived to showcase the aesthetic value of MDF, contrasting its subtly speckled character with clean geometric forms. The piece was designed to be cut from long narrow lengths – the most common leftover part of a sheet. Each piece was meticulously angled, chamfered and sanded by hand before being fixed to the underlying plywood structure. It also contains a concealed compartment, intended to hold magazines and flyers for exhibitions within its home at No Format Gallery.
DJ Booth
The DJ booth was inspired by young local musicians performing at SHAPESLewisham's launch at Second Floor Studios in May 2019. The understated monochrome colour palette features a routed pattern that disguises the screw holes and scuff marks from the sheet material's previous use. Valchromat is colour core MDF, which means scratches and marks can be easily repaired. The smooth oiled sheet designed to sit in the background, allowing the users to take centre stage whilst they perform. The cabinet was placed on salvaged castors for ease of movement; especially useful in an environment where space can sometimes be limited or has multiple uses.
Water Table
The Water Table utilises redundant tooling timber used for a bench project within Folkstone Gardens. During the manufacturing process a custom-made tool was fabricated out of plywood to control and hold the seat material. This tool is called a jig. The jig enabled the CNC to create unique patterns that depicts the gradient of the parkland. Parts of the jig were laminated together to create a decorative sheet material which forms the top of the table and 18mm birch plywood provide a simple, sturdy base. The Water Table was donated to our local cafe, Festa sul Prato who also resides in Folkstone Gardens.
Exploded Chair
The nature of cutting multiple components from 8x4 sheets on a CNC machine means that there are often long rips of material unused. High production levels equates to hundreds of sheets being machined each week, providing ample off-cuts to create new products. The conceptual idea illustrated an exploded view of a chair, although the product is incidental. It could be anything workable within the constraints of the off-cuts, demonstrating what could be an entire product range made from surplus material. The curved section has been laminated with walnut veneer and the fabric is from one of the many upholstered seating booths designed for commercial interiors.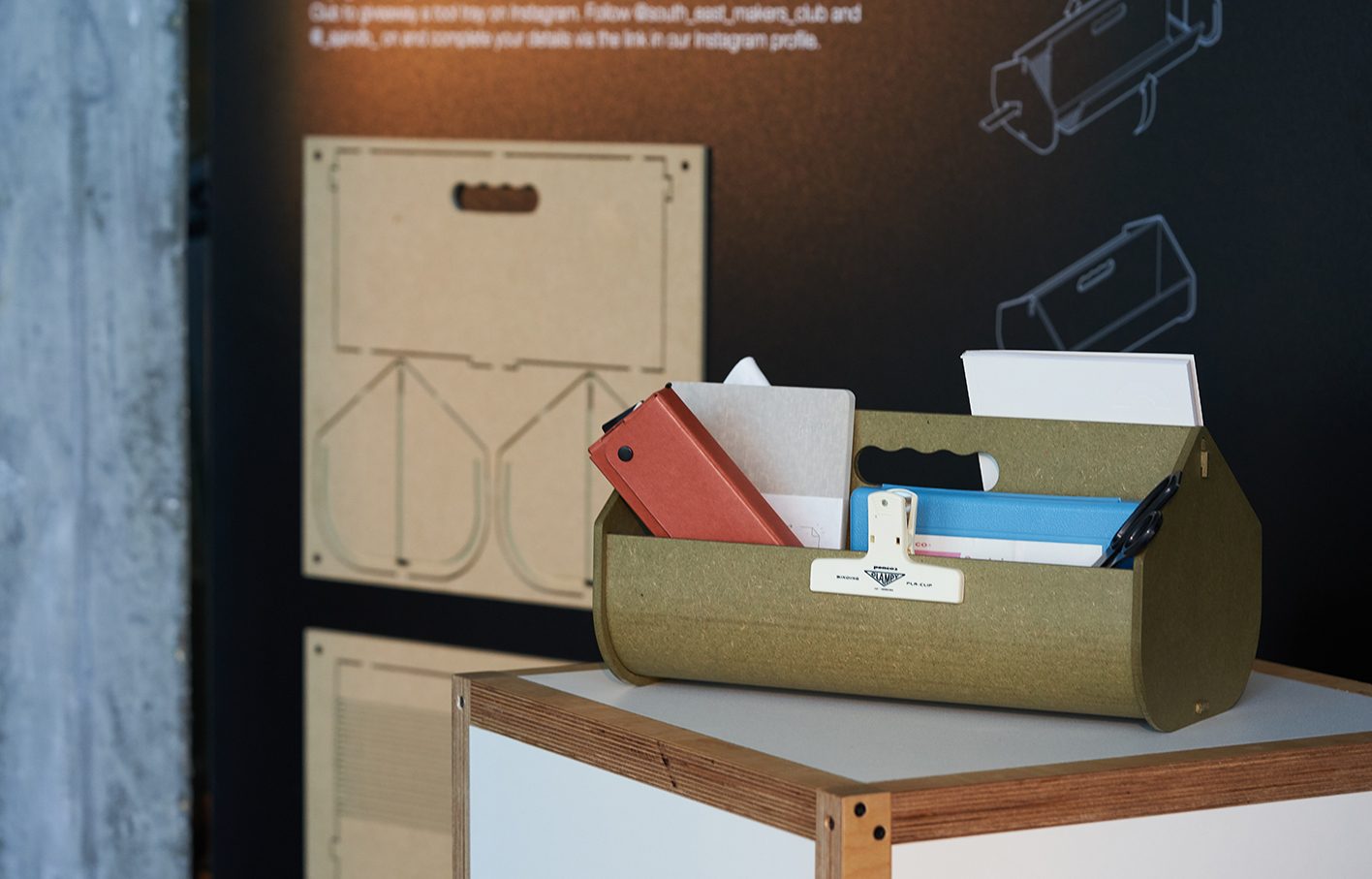 We designed and fabricated a tool tray from off-cut green, moisture resistant MDF. The design featured CNC routed ribs which created a curve in the material that then slotted together to create the tray from. Each day at the exhibition a portable CNC machine was in operation, demonstrating how the tool trays were made. They were then given away to visitors to take home flat-pack and assemble at finish at home.
SHAPESLewisham also featured in the exhibition with an installation which we fabricated for their launch in May 2019. SHAPESLewisham is an organisation brining together the creative practitioners in the area.
Photography by Tom Donald and Yeshen Venema.