And the winner of The Off-Cut Challenge is...
Share
Back to Index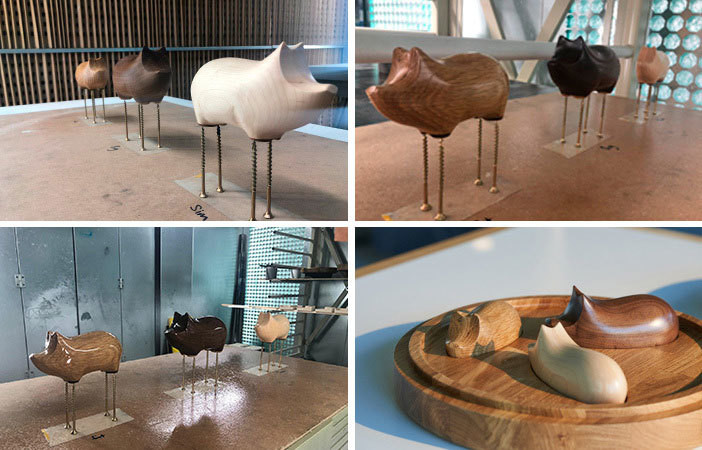 Three little piggies went to Deptford Market – a children's toy which will last a lifetime.
We should be considered consumers, buying less but buying well, and this ethos can be especially applied to children's toys, of which there is a plethora to choose from – especially made from mixed plastics. Three Little Piggies were inspired by conversations about children's toys following a baby boom at Aldworth James & Bond. The animals were milled on a CNC machine and designed to be used. Made from off-cuts of solid maple, oak and walnut, the timber will age well. The storage box is made from an off-cut of oak butchers block and provides a pig enclosure and puzzle for play. 
A massive thank you to our external judges who had the very difficult decision of choosing our winning team for our exhibition, The Off-Cut Challenge. Three little piggies went to Deptford Market was chosen for its playful concept, superb finish and serious message of being a considered consumer. Our judges included Rebecca Molina, Executive Creative Director at Studio Raw, Alice Morby, Acting Design Editor at Wallpaper*, Hugh Strange, Director at Hugh Strange Architects, Designer Tord Boontje and Annie Warburton, Chief Executive at Cockpit Arts.