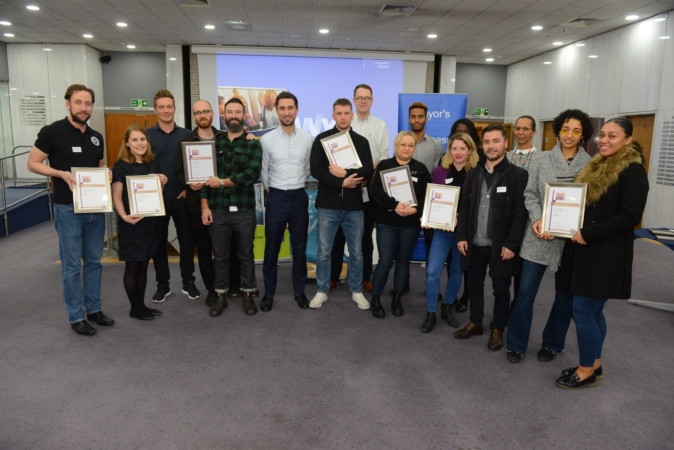 We are incredibly proud to have won the award for Best Creative Business for the Mayor of Lewisham Business Awards 2018! 
Last Friday our trio of directors Tim, Del and Nik were pleased to attended the Lewisham Council Business Awards ceremony at Catford Town Hall, after being shortlisted for the Best Creative Business. Led by the new Mayor of Lewisham Damien Egan, he spoke of his eagerness to build upon the established awards programme to courage new businesses to the area, and honour their work in the community. 
Within our category we were pitched against other incredibly strong local creatives, so we were blown away by winning the Best Creative Business in Lewisham, which really brought home how much we have achieved at our 10th birthday! We were really chuffed to be cited not only as a top Deptford based fabricator, but Lewisham council also mentioned our strong ethos as inclusive employers, hiring our  dynamic bunch of dedicated dudes from the local area.  Also taken into consideration was our continued work with SHAPESLewisham, a programme to develop the creative community within our neighbourhood, establishing the area as one of London's new Creative Zones. Lastly the council touched upon their keenness to grow the network of London Living Wage employers by counsellor Joe Dromey, who recently visited us to thank us for our continued commitment to pay the London Living Wage. 
As an independent business with strong connections to the local area, and a desire to be part of the wider community, this was an incredibly important award to have received on our 10th Birthday, and really helped to kick off our celebrations!